Report reveals inequality in Public and Community Housing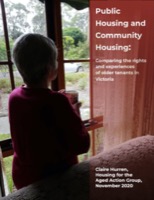 Housing for the Aged Action Group (HAAG) released a report today comparing the experiences of tenants who live in public housing with those who live in community housing, finding that there are significant differences for tenants in exercising their rights.
The report compares the regulatory frameworks of housing owned and managed by the State Government, with housing managed by not-for-profit community housing providers. Tenants in both types of housing were interviewed.
Key findings include:
Community Housing Providers often lack fairness and transparency in their allocation processes, and appear to discriminate against prospective tenants on the basis of income, health requirements, accessibility needs and assumptions about a person's character.
Community Housing Providers rent setting policy and amounts can be unclear and poorly understood by tenants
Inconsistent and unclear communication of rights and responsibilities regarding rent, maintenance and modifications in community housing compared with public housing
A reluctance by community housing providers to allow modifications for accessibility and needs due to costs
Chronic lack of housing supply across the board.
Overall gratitude for securing social housing that leads to a fear of making complaints
This report follows the announcement this week of significant Victorian State government funding for social housing. The announcement includes funding for community housing providers to manage state-owned housing, and building of new community housing on state-owned land. Although money has been pledged to repair run down public housing, some of that has been earmarked for "master planning for redevelopment", with the "deliberate decision" to increase community housing management of state-owned housing.
"We welcome the recognition of the need for serious investment in housing both as an economic stimulus and as a long-term health solution for older Victorians," said Fiona York, Executive Officer. "However our report demonstrates that the decision to transfer existing Public Housing to Community Housing not based on evidence of better outcomes for tenants."
"Our report recommends that public land should be used for public housing, managed by the Government. Given the differences in the lived experiences for tenants in public housing vs community housing, we urge the Government to ensure that regulation across both types of housing is consistent and fair, so that tenants are treated equally no matter who their landlord is. This includes rent setting, tenancy selection, modification and repairs," she continued.
"We welcome the announcement of a review into the regulation of community housing, and look forward to tenants being given the opportunity to participate."
Fiona York can be reached for further comment on 0449554142 or at fiona.york@oldertenants.org.au.
Watch the launch of the report at today's Annual General Meeting