Preventing Homelessness in Older Culturally and Linguistically Diverse (CALD) Communities is a collaboration between Ethnic Communities' Council of Victoria (ECCV) and Housing for the Aged Action Group (HAAG). The project is a response to an increasing awareness of housing issues for older migrant and refugee communities.
The report makes recommendations based on a detailed and targeted process of community consultation with specific ethnic communities as well as through the examination and analysis of case studies from Home at Last clients and Home at Last service data. The recommendations are designed to assist decision makers in planning inclusive services and to encourage the development and implementation of housing policies and diversity mechanisms that ensure equitable access for older members of culturally diverse communities.
Key project initiatives include:
Increase access to Home at Last services through community education and links to information on housing options.  Home at Last is a free information, advice and referral service of Housing for the Aged Action Group.
Improve the ability for older people from CALD backgrounds to navigate the housing/homelessness system.
Increase awareness of Home at Last.
Increase the ability of the Home at Last service to respond in a culturally appropriate manner.
Six communities have been identified as having high proportions of older renters and being at risk of homelessness. They are:
Chinese (Mandarin and Cantonese)
Arabic Speaking
South Asian (Punjabi, Hindi, Urdu)
Serbian
Croatian
Bosnian
The project was launched on the 22nd of April 2015 by the Victorian Minster for Multicultural Affairs, Robin Scott. The press release is available here.
Read article on the Project Launch by the Australian Aging Agenda  (link is external)
Bi-Lingual Workers
Bi-Lingual Workers from each of the selected communities have been trained to deliver information to their communities about housing options for older people and how the Home at Last service can assist people in housing stress.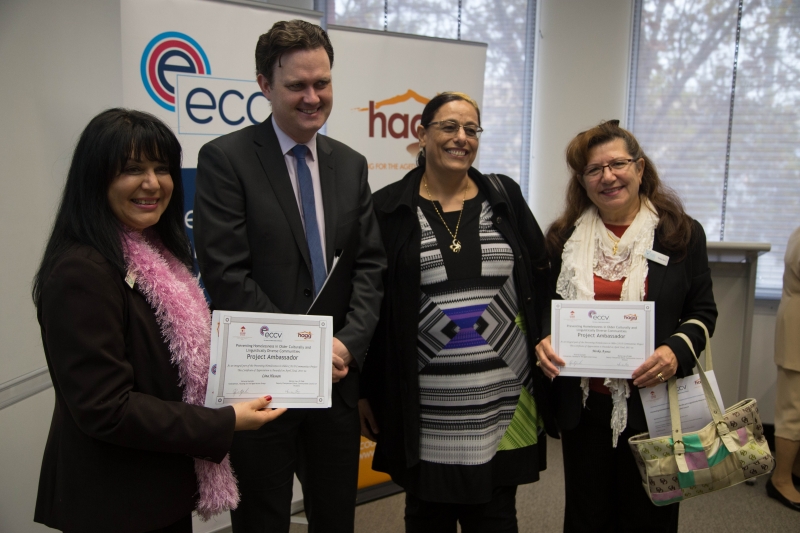 Above- Project participants Lina Hassan, Leila Alloush and Mesko Ayouz from Victorian Arabic Social Services (VASS) with the Victorian Minster for Multicultural Affairs, Robin Scott.
Resources
Resources have been developed in close consultation with community reference groups. These include brochures, presentations and training packages for bi-lingual workers.
Resources are available in: