John and Max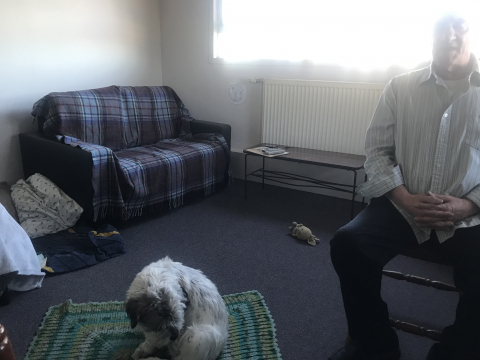 7 Jun 2019
For 14 years John* was living in a private rental flat attached to a bottle shop in Brunswick West. Throughout his years of living there, he recalled only a handful of times that his landlord visited the property. Many of his requests for maintenance of the property, including water flooding through the ceiling when it rained, were ignored and he was simply asked to 'use a different room' of the house. This resulted in mould, paint and plaster peeling and an overall uninhabitable premises, creating a hazardous place to live.
On the 13th anniversary of his residence at the dilapidated dwelling, John was advised by the landlord that the property is scheduled to be demolished. He was presented with a written NTV from his landlord which was dated to happen by November 2019, possibly sooner.
John felt immense pressure to find alternative, safe and affordable accommodation.
He presented to Home At Last in February 2019 to meet with an intake worker. John expressed his concerns about his housing and for his future and worried that he would not be able to find somewhere to live before November came around. He explained that he had previously experienced homelessness and was particularly nervous about going into emergency accommodation, as he did not have a good experience or feel safe there in the past.
Another concern that John had was ensuring that he can be housed with his pet dog, Max. Max has been with John for over 10 years now. He finds comfort and companionship in his pet dog who has been with him throughout a number of hardships he has faced, including financial and health issues leading to many hospitalisations - most of these issues stemming from his unsafe accommodation.
John was allocated an outreach worker from HAL who assisted him with a Homeless with Support application. As soon as he was approved, he was nominated for a vacancy of the redevelopment projects that had just been completed by the Department of Housing.
He was successfully housed last month (May 2019), provided with new bed, fridge and new household items for a fresh start.
'I'm starting to feel better about myself, getting into a routine and settling into my new home'. - John.
John is thankful for the assistance provided by Home At Last and has expressed that he is now able to focus on improving his health and continuing to engage in the community without the stress of worrying about finding an affordable and secure housing.
*Name Changed