From 'Notice to Vacate' to New Home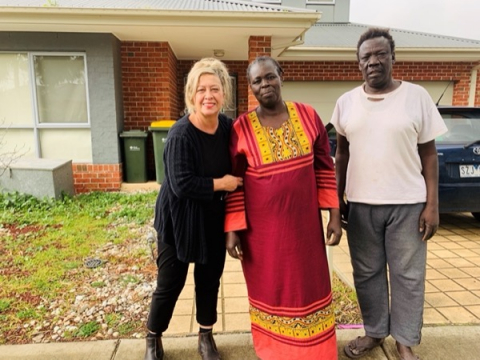 12 Oct 2019
Franco and Joyce, a couple in their late fifties, were referred to Home At Last  for housing assistance after receiving 60 days Notice to vacate from their land lord.
"Renting a property in the private market is extremely unaffordable for people like us who are on Centrelink income which is very low and it often means that we need to sacrifice other essential needs such as food and heating".
Following their referral, Outreach worker conducted an urgent housing assessment. At the time of the assessment, they appeared to be quite distressed with receiving Notice to Vacate which was causing them severe anxiety and stress, in particular, the worry of not being able to get an affordable and secure home and the possibility of becoming homeless. They were also worried about facing discrimination in the private rental market due to being from South Sudanese ethnic background. Franco stated that:
"The South Sudanese families living on low incomes are not able to afford to rent. We also face discrimination in the private rental market".
We completed "Homeless with Support housing application" (Seg 1) which was approved but we were not sure when a property would become available and offered to them.  As they were flexible about which suburb they lived, we contacted social housing providers on a weekly basis in order to advocate on their behalf for urgent housing offer. One of the social housing providers stated that they do have a vacant property and we organised an interview. They were offered a property which is a 2 bedroom town house property in a suburb that they already have had some social networks. Franco and Joyce moved in to their new property in July 2019 and settled in well.
"Our health dramatically improved for the better and we feel very secure and happy"