Lockdown eve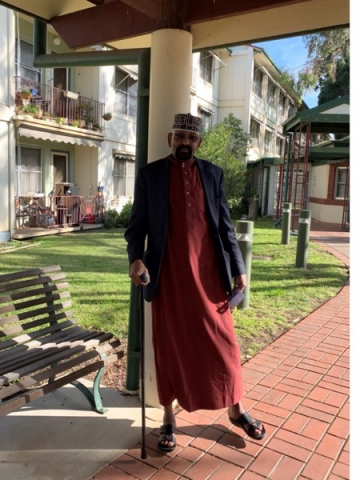 12 Apr 2020
On midnight, Monday the 30th March 2020, Stage Three restrictions to stop the spread of COVID-19, started in Victoria. Victorians were given a clear and simple message: "Stay home to Protect Yourself and the Victorian Health Care System". For homeless people, this order to stay home, was almost impossible to adhere too. Most homeless people already have poor health with underlying conditions; they have very little or no money, and lack access to health services, so they were already in a high-risk group.
Ali, one of our clients was referred to Housing for the Aged Action Group, Home at Last program, by the Ascot Vale Housing Office, for an urgent assessment for Homeless with Support in late December 2019. Following an urgent assessment, he was approved in January 2020, before the outbreak of COVID-19. Ali has serious health issues. He came to Australia as a refugee in May 2015 from Somalia. Ali was a civil war survivor and endured a disability due to being shotin his leg which left him with a severe walking disability, He ambulates with a walking stick therefore needs a ground floor property or one with lift access.
On arrival, Ali had lived with his son and family in South Australia. He recently came to Melbourne as living with his son was not the best option for him due to over-crowding in the son's house and growing extended family tensions. Since moving to Melbourne, he had been couch-surfing with friends. However, due to the current public health crisis of the COVID-19 pandemic, his friends were no longer willing to offer him to couch surf in their houses. Ali therefore had nowhere to live.
We had approached every social and community housing provider but because Ali was on a Job Seeker payment, no housing provider would consider him. We approached Moonee Valley Council as they have nomination rights for some properties in Monee Ponds. We strongly advocated for Ali to be nominated for one of their vacant properties as soon as possible due to the seriousness of COVID-19 and its' possible health risks to Ali. Moonee Valley Council immediately acted on our request and nominated Ali for a bed sit property in Monee Ponds. Unfortunately, Ascot Vale housing service declined this nomination as Ali was not 55 years old yet.
On Sunday 29 March, I formally wrote to Area Manager of Ascot Vale Housing Service for their decision to be re-considered the application, upon humanitarian grounds. In my letter, I successfully argued that Ali was not 55 years old yet, but he would turn 55 on the 5th of June this year, which was only couple of months away. I informed them that Ali desperately needed an appropriate living environment and support resources to achieve his potential and re-engage again with life. I informed them how Ali's housing situation was causing him severe anxiety and stress, particularly the worry of not being able to get any affordable and secure housing, during this health pandemic as he feared of becoming ill with the COVID-19. I informed them that I was prepared to act both as a personal and professional referee for Ali, with the intent of assuring them that he would turn out to be one of their best tenants. I urged them to re-consider their decision and offer Ali one of their available Moonee Ponds bedsits, as soon as they could; as we had very little time left before the full lock down would occur in Melbourne (and elsewhere in Victoria).
On Monday 30th March, we received a phone call form Ascot Vale Housing Service informing us that they did reconsider their decision and decided to offer Ali a public housing property. We completed all the paperwork on the same day before the lock down restrictions began.Ali had no furniture and little personal belongings. HAL supported Ali with some brokerage and referral to services to assist with furnishing his new home.
Ali was the last client I worked with on a face-to-face basis due to COVID-19 pandemic. I have been continuing to assist Ali with his needs over the phone. Ali is a practising Muslim. Every time we talk on the phone, he finishes with a little pray from the Quran, wishing us the best. He said:
"I am very thankful sister that I was housed before the Ramadan began on 23 April, and at the end of Ramadan with Eid-ak-Fitr celebration, I may not have many people visiting me due to the pandemic, but I will have safe, secure and affordable housing".
We will remain in contact with Ali throughout this public health pandemic and after it is over we shall link him up with available support services. Hopefully this will not be for too much longer.