HAAG welcomes Labor's focus on affordable housing but where is the housing?
On the first day of the national Australian Labor Party (ALP) conference in Adelaide on Sunday, Labor announced a new policy platform to address the rental housing crisis. 

Opposition leader, Bill Shorten announced a $6.6 billion dollar investment over 10 years in an attempt to reduce rents for Australia's 'Key Workers'. 

"Rental affordability is a national challenge and it demands national leadership" said Mr Shorten

The policy's focus is on making rental housing more affordable for those with low-middle incomes, by providing investors with $8,500/year for 15 years to charge rent at 80% of market rent.

Whilst this scheme, when coupled with negative gearing reforms will go some way towards addressing the shortage of affordable rentals for workers, HAAG is concerned that there is still a major gap in the number of social housing properties required to keep renters on pensions and low incomes out of homelessness.

A recent AHURI report Social Housing as Infrastructure: An investment pathway states that a further 720, 000 properties over the next 20 years, or 36, 000 each year would be required to meet future demand for social housing (see graph).  It recommends that rather than subsidising private investment, a more cost-effective way of addressing housing affordability is capital investment by government. 

Labor's plan aims to provide just 20, 000 affordable dwellings in the first 3 years, and the announcement did not include any commitment to social housing, where rent is around 30% of someone's income and not linked to market rent.
Although women aged 55+ were acknowledged as being especially at risk of homelessness by Mr Shorten, there were no announcements made to specifically address the needs of this cohort.

"Older renters cannot afford 80% of the market rent whilst on the aged pension, and those on Newstart are even worse off. " HAAG's Executive Officer, Fiona York said.

"What we need is a commitment to a large-scale investment in public housing, which is affordable when a person is on a pension and where the tenancy is guaranteed for the long term, not just the next 15 years".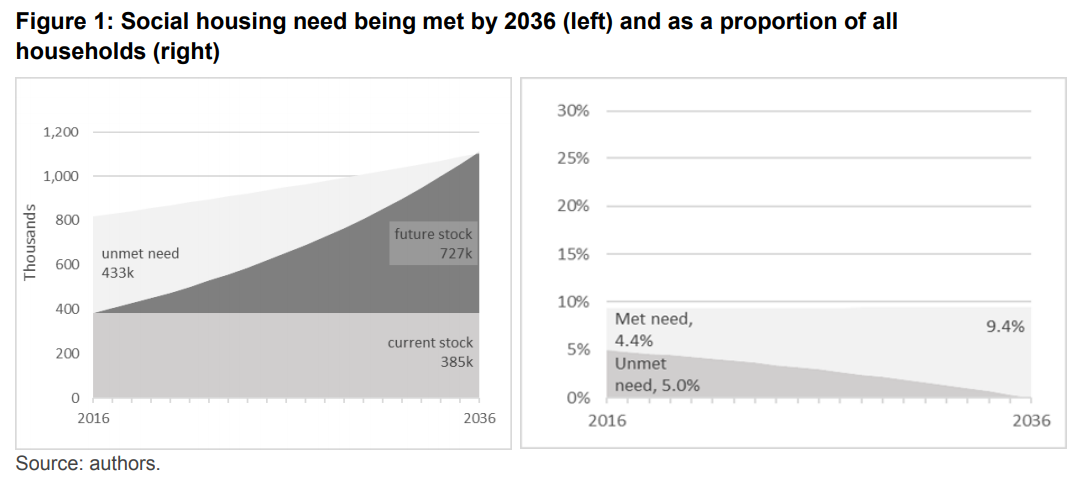 Source: AHURI, Social Housing as Infrastructure: An investment pathway, November 2018