Barack Beacon residents fighting demolition of their public housing
Barack Beacon is a public housing estate in the Port Melbourne area, built in 1982 and across the road from Port Phillip Bay. The estate is an example of an unusual housing architecture based upon a UK model that is now heritage protected in England, but meanwhile here in Victoria is slated for demolition under the Big Housing Build Public Housing Renewal Program.
Around 300 residents were told at Christmas 2021 that they would be relocated, as the estate was to be demolished and replaced with a mixture of private housing and community housing. Workers from Homes Victoria set up an office in one of the empty apartments and began to interview residents about where they wanted to move to. Unfortunately, one of our members informed us that some of the older tenants on the estate were not getting their needs met, and there was a lack of information and support for tenants. HAAG advocated for more support for these older tenants, and Victorian Public Tenants Association became more active in their support to advocate for their needs to Homes Victoria.
A group of tenants formed a group to try to save Barack Beacon from demolition, and an architect firm, OFFICE, drew up plans for an alternative vision for the estate, called Retain, Repair and Reinvest (RRR). This vision was developed in consultation with the residents, and would retain the existing housing, repair it to modern environmental and accessibility standards, and include more housing to be built in some of the open spaces. The plan was shown to be more cost effective for government, saving $88 million, as well as more environmentally friendly, and with very little disruption to residents.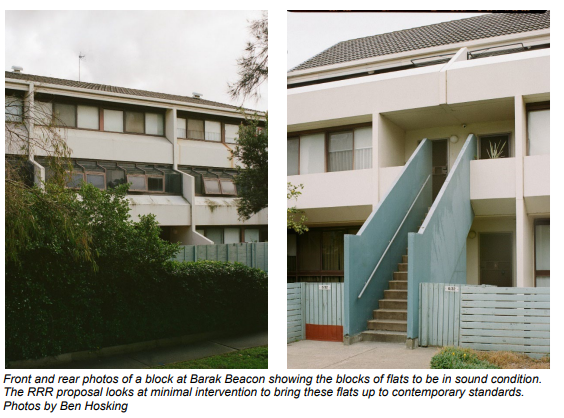 The group of tenants called upon the Government to implement this plan, and asked for a meeting with the Minister to discuss it. One resident, Margaret Kelly, took the issue a step further and occupied the building of the Department and the Minister on 50 Lonsdale Street, refusing to leave until they agreed to meet with her. They agreed, but the only thing on the agenda for the meeting is to discuss where Margaret is to move to, rather than a discussion about the future of Barack Beacon to save it from demolition.
On 27 May, a rally to Save Barack Beacon was held on the estate (pictured below), attended by around 60 people including current and former residents of Barack Beacon and public housing tenants from nearby areas. Barack Beacon has become symbolic of a broader issue in Victoria, and across the country, where public housing is being demolished, the land sold or leased to developers, who then build new private apartments, with all former public housing transferred to the community housing sector. The tenants lives are disrupted, the community dispersed, and when and if they return, they will not be returning to public housing.
There are only a handful of people left at Barack Beacon. Most tenants have been moved into private rental properties head leased by Homes Victoria, or into spot purchased apartments. The cost to Government for this is unknown, and although tenants have been promised to return to the estate, there is no information on when this will happen, or what they will return to.
Listen to Margaret Kelly talk about receiving the news of the demolition of her home oldertenants.org.au/podcast/margaret-kelly
Listen to OFFICE architects explain their report oldertenants.org.au/podcast/office